Upgrade Charity
Why does Upgrade Estate support specific good causes?
The answer lies in our mission, which is to create social impact and social added value. We do this in various ways and through different projects.
We are always looking for a link with our business and work hard to assess whether our charity projects have sufficient social impact.
Currently, through Upgrade Charity, we are focusing on the projects described below. Besides, we also support numerous local and smaller initiatives.
Upgrade Solidarity
Aim
To meet the needs of our most vulnerable tenants during the coronavirus crisis in 2020, we set up the private foundation Upgrade Solidarity. For this, we were able to count on the solidarity of our investors and Co-creators who supported it through voluntary contributions.
Students who were struggling financially could apply for a rental allowance on the basis of objective and measurable criteria. As a result, around 40 students were able to continue their studies without having to give up their student room.
A survey revealed that the mental well-being of some of our tenants was also suffering. As part of our social mission, we decided to enter into a partnership with an approved psychology practice through Upgrade Solidarity. This has made it easy for students with mental health issues to book an appointment with a psychologist. 
What's more, Upgrade Solidarity pays for these sessions. Since it began, around 150 students have registered for the scheme.
How do we contribute?
Upgrade Solidarity will continue to operate so we can accomplish our social mission. Students or young professionals in need will be able to call upon the foundation. 
Upgrade Estate is not only the foundation's initiator, but also monitors the approved applications and their entire follow-up. Stakeholders who make a contribution receive access to the accounts and are kept informed in a transparent manner.
Spontaneous donations can always be paid into the following account: BE44 3632 0046 0745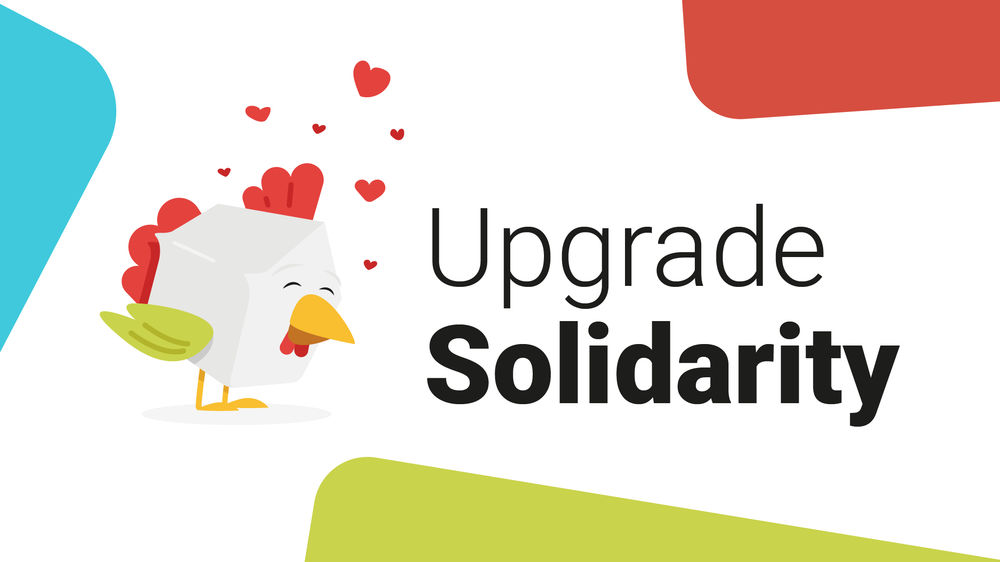 Supporting Friends
Aim
Supporting Friends is an association that supports local projects on São Tomé e Principe, a small island off the west coast of Africa. It prides itself on using 100% of the financial resources it raises to support the local population.
A group of Flemish medics organises medical missions here several times a year with volunteer doctors, anaesthetists, dentists and general surgeons to carry out operations in the national hospital.
Supporting Friends also provides accommodation and education, and creates a safe environment in the shelter where elderly people and children can enjoy a hot meal and a nice chat every day. 
How do we contribute?
Upgrade Estate provides the project with financial support and, for the future, is considering offering accommodation for medical students who come to Belgium for a placement.
More info 
Would you like more information about Supporting Friends? If so, please click here to visit their website. 
 

TAJO
Aim
Talentenatelier Jongeren (Young People's Talent Workshop) started from the idea that only those who are offered opportunities will be able to seize them. With this in mind, it organises practical workshops on Saturdays for socially vulnerable young people. The objective is to teach participants the importance of 'doing your best for later'. It hopes to give them passions and interests to motivate them to study in a direction that will take them further.
  
How do we contribute?
Together with TAJO, our Upkot coaches organise practical workshops on talents and group dynamics in the Prullenbos forest. We also host the graduation ceremony at our brand-new Upgrade Academy at the end of the academic year.
More information
Would you like to know more about TAJO? Visit their website.

Rhotia Valley Children's Home
Through Upgrade Charity, Upgrade Estate enters into a partnership with the Rhotia Valley Foundation in Tanzania. This foundation was set up in 2006 by Dr Joris Koch and Dr Marise Koch-Hekstra and consists of the Tented Lodge and Children's Home. When Nele and Koenraad visited this special place in 2018, they were blown away by the project. Afterwords they decided to contribute to this foundation with Upgrade Estate. Six talented orphans are being supported by various Upkot buildings, so they can realise their dreams. Apart from this initiative, Upgrade Estate supports several other local projects.
Aim
Rhotia Valley Children's Home is a safe children's home for children from the local community. The organisation helps children without families to build a future full of opportunities. They deliver primary education to the children and encourage young people who grew up in the home to continue their studies. 
How do we contribute?
For the past 2 years, we supported six talented orphans by an Upkot building to realize their drams. Justina & Akwdelli graduated in the meantime. But the incom ein the Tented Lodge nest to the orphanage stopt due to the corona crisis. Therefor we chose to help some orphans to go to secondary school. We are happy to introduce these youngsters to you.
More information
Would you like to know more about Rhotia Valley Children's Home? Visit their website.
VZW Stappen
Aim
The non-profit organisation VZW Stappen is a youth service accommodation facility for 29 young women aged between 14 and 21, who have been placed there by a juvenile court or voluntary support workers. Stappen focuses on (re)connecting these young women with their environment, their desires, their school or work-based programmes, etc. The charity provides tailored mentorship and accommodation. 
How do we contribute?
In 2020, Upgrade Estate donated a gypsy wagon to VZW Stappen. They will refurbish it and use it in projects aimed at forming connections and fostering reintegration.
More information
Would you like to know more about VZW Stappen? Visit their website.